ESPN Profiles New Butler Basketball Coach Brad Stevens '99
August 7, 2007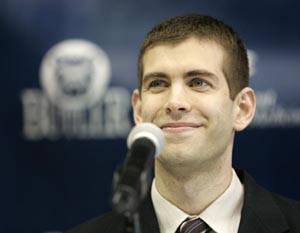 August 7, 2007, Greencastle, Ind. - "A former player at DePauw University in Indiana, Stevens had a strong desire to stay involved in basketball," notes ESPN.com of Brad Stevens, the new head men's basketball coach at Butler University. The article details how Stevens, a 1999 DePauw graduate, transitioned from a job at Eli Lilly & Co. into the second-youngest head coach in NCAA Division I basketball.
"Only six years ago, Brad Stevens had a 9-to-5 desk job, creating an incentive program for salespeople at an Indianapolis pharmaceutical company," writes Mark Schlabach. "Stevens was only 24 at the time, and worked with many executives who were much older. Stevens never knew just how valuable that experience would be."
The article notes, "While working in the marketing department of the pharmaceutical company, Stevens volunteered as a scout at an Indianapolis high school and coached an AAU summer team." A hunger to return to athletics led Stevens to Butler in 2000 as "coordinator of basketball operations before the 2000-01 season, which was mostly an administrative position. When [head coach Thad] Matta left for Ohio State the following summer and Lickliter was hired to replace him, Stevens was promoted to the third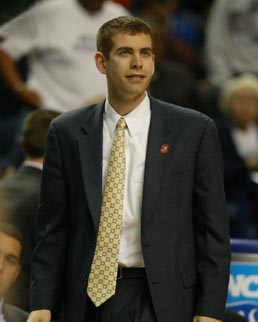 assistant job."
Matta tells ESPN, "Seven years ago, he was an eager young coach, who would do anything and everything to progress in the profession."
Barry Collier, athletic director at Butler, says, "I had basically eight months to interview Brad. By that, I mean I got to observe him with the team in practice, on the road and in games. Age wasn't a factor because I'd seen his ability shine through during the course of the season."
Read the complete story at ESPN.com.
Learn more about Brad Stevens, who was an economics major and Management Fellow at DePauw, in this previous story.
Back