Group of 695 Incoming Students Includes 45 from Nineteen Foreign Countries
August 10, 2007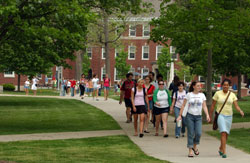 August 10, 2007, Greencastle, Ind. - DePauw University will welcome 695 new students to campus on opening day, Saturday, August 18. The entering class -- one of the largest in recent years -- includes more than double the number of international matriculants and about 11% more valedictorians and salutatorians than the group that arrived in Greencastle in August 2006.
"It's always an exciting time as we prepare our campus for the arrival of new students, and this is especially notable as we celebrate the early success of our initative to attract more international students to DePauw," says Stefanie Niles, vice president for admission and financial aid. "DePauw, already an institution of national prominence, has an increasingly global reach."
Increasing DePauw's international student body was an initiative launched by President Robert G. Bottoms in 2006 as part of the University's strategic plan.
A total of 45 new undergraduates are coming to the University from 19 foreign countries, 31 as matriculants (versus 15 last year) and 14 as exchange students. Fifteen hail from China (12 matriculants and 3 exchanges), 7 are from India (all matriculants) and 4 will make the trip to Greencastle from Turkey (all exchanges). New students will also come from Bangladesh, Bulgaria, Canada, France, Germany, Ireland, Japan, Kenya, Kyrgyzstan, Myanmar, Pakistan, Serbia, South Korea, Spain, St. Lucia and Vietnam.
The 695-strong Class of 2011 represents 35 states. Forty-one of the incoming students were valedictorians or salutatorians in high school, five more than were in last year's entering class. Twenty-two percent are first generation college students (vs. 15% in 2006),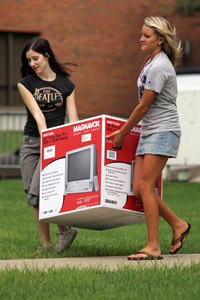 while 20% of enrolling students have DePauw alumni ties (up from 18%). Excluding international students, 16% of the incoming class come from multicultural backgrounds; that grows to 22% if the international total is included.
DePauw will welcome 21 Rector Scholars, an increase of seven from last fall, and 80 Holton Scholars, seventeen more than were in the Class of 2010.
The median high school grade point average (unweighted) of the new class is 3.64. The median class rank is 90%.
New students begin moving into their residence halls at 8 a.m. on the 18th. At 3 p.m., students and parents will hear from President Bottoms in the Opening Convocation, which takes place in Kresge Auditorium of the Judson and Joyce Green Center for the Performing Arts. For more information, visit the Class of 2011 Web site.
Back