Chuck Brooks '79 Appointed VP at SRA International
August 9, 2007

August 9, 2007, Greencastle, Ind. - Charles D. "Chuck" Brooks, a 1979 graduate of DePauw University, has joined SRA International, Inc. (NYSE: SRX) as vice president, government affairs. In his new role, Brooks will be the senior corporate executive responsible for maintaining effective relations between the company and the U.S. government. He will also manage SRA's political action committee.
With more than 20 years of government and legislative experience, Brooks most recently served as director of legislative affairs for the Science & Technology Directorate within the Department of Homeland Security. He has also served as President of Brooks Consulting International, a government relations, investment banking, and public affairs firm. As a senior legislative assistant for defense, international business, and foreign affairs to Senator Arlen Specter, Brooks drafted legislation and policy papers and represented the Senator at constituent meetings. He has also been a faculty member at Johns Hopkins University, teaching a course on homeland security in the graduate program.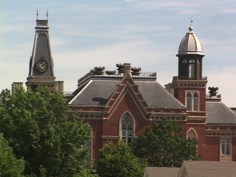 "Chuck is an outstanding leader and is well respected on Capitol Hill for his understanding of public policy and his ability to develop and implement legislative strategies," says Stan Sloane, president and CEO of SRA. "I am pleased to welcome him to our executive management team."
SRA International is a leading provider of technology and strategic consulting services and solutions to federal government organizations. Read the announcement of Brooks' appointment at the company's Web site.
Back