'All-Star' Jeremy Bettis '03 Has Double-Double in Loss to IU Recruits
August 8, 2007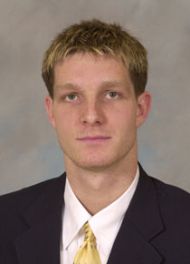 August 8, 2007, Greencastle, Ind. - "[Jeremy] Bettis, a 6-7, 200-pound Mecca native who played his college ball at DePauw, had 15 points on 6-of-15 shooting and finished with a team-high 11 rebounds" last night as his North Daviess Area All-Stars lost to Indiana University's basketball recruits, 146-99. The performance of Bettis, a 2003 DePauw graduate, is noted in today's Bloomington Herald-Times. The exhibition game, played at North Daviess High School, drew a crowd estimated at more than 3,600.
Eric Gordon, the highly-touted IU recruit, led his team with 41 points.
Read more at the Herald-Times (a paid subscription is required to access the story) or in the Evansville Courier & Press. The latter article includes a photo showing Gordon and Bettis in action.
Back