President Bush "In a Very Commanding Position" as Iraq's Future is Debated: Lee Hamilton '52
August 16, 2007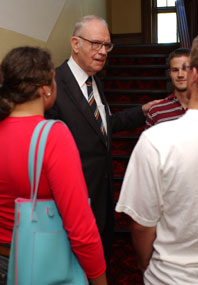 August 16, 2007, Greencastle, Ind. - As the nation awaits next month's report from the commanding U.S. general in Iraq, David Petraeus, "former Rep. Lee Hamilton, who co-chaired a commission that offered recommendations on how to proceed in Iraq, said in an interview he expected Petraeus to recommend the troop build-up continue into next spring," reports Reuters today. Hamilton, a 1952 graduate of DePauw University, "said administration claims of progress have been tempered by a suicide bomb attack in Kahtaniya in northwestern Iraq on Wednesday that killed hundreds of people." (at left: Hamilton talking with DePauw students in historic East College)
"It's pretty hard to accept the idea of progress if you're killing 250 people with one blast," the Democrat says. However, at this juncture Hamilton says there is not enough Democratic support for a measure that would require the White House, which pushed for a troop surge, to change course. "You've got a lot of stirring, and a lot of unease among the legislators could break out, but at the end of the day, the president is in a very commanding position," he says.
Read the complete article, "Petraeus' Iraq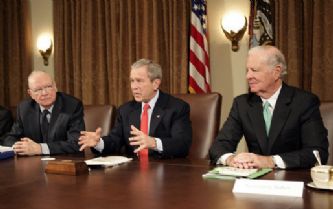 report likely to show mixed picture," at Reuters' Web site.
A Democrat who served 34 years in Congress and has been praised for his bipartisanhip and pragmatism by the New York Times and Chicago Tribune, among other publications, Lee Hamilton discussed his DePauw experience in a recent interview. The veteran statesman is a frequent visitor to the Greencastle campus, and in October 2006 discussed the Iraq war and other matters at DePauw Discourse 2006: Issues for America. Access a story -- including video and audio clips -- here.
Back