AP Previews Tigers 2007 Football Season
August 17, 2007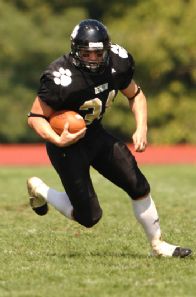 August 17, 2007, Greencastle, Ind. - "RB Jeremiah Marks was the Tigers' big scorer last season, and QB Spud Dick would help alleviate that burden with more consistency," notes an Associated Press preview of DePauw University's 2007 football team. The piece notes that the Tigers return 10 starters on offense and 3 on defense from last year's 6-4 team and that key games are "Sept. 29 vs. Millsaps and Oct. 13 vs. Trinity; DePauw must win at least one of those games to contend for a conference title."
Marks (pictured at top left), now a senior, earned honorable mention all-America honors last season after garnering first team all-region honors and a third consecutive first team all-SCAC designation. He set a single-season school record in 2006 with 1,117 rushing yards. Marks enters the new campaign 21 yards shy of the DePauw career rushing record of 2,941 yards held by Bart Simpson (1971-74). He is tied for second place on DePauw's all-time
scoring list with Johnathon Stigall (1995-98) with 246 points and is just short of Dan Ryan's (1999-02) career mark of 248.
As a freshman last year, Spud Dick passed for 1,169 yards, connecting on 95 of 162 passes (58.6%) and tossing 5 touchdown strikes.
Read more at the Times of Northwest Indiana.
Coach Matt Walker '99 and his staff welcomed the 2007 team, which includes 67 new recruits, to campus this week. The Tigers open the 2007 football season September 8 on the road versus Anderson University.
Access a previous story on preparations for the new year, and visit the football team online.
Back