"America is Scared to Death of a Draft," Writes Prof. Ken Bode
August 17, 2007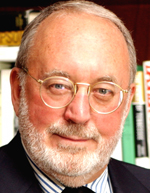 August 17, 2007, Greencastle, Ind. - The recent comments by Army Lt. Gen. Douglas Lute, the nation's new "war czar," provide the backdrop for Ken Bode's column in today's Indianapolis Star. Lute "told National Public Radio that frequent tours of duty have stressed the all-volunteer army to the point where it makes sense to consider a return to a military draft," writes Bode, Eugene S. Pulliam Distinguished Visiting Professor of Journalism at DePauw University. "Hardly were the words out of his mouth before a spokesman for the National Security Council issued a refutation: 'The president's position is that the all-volunteer military meets the needs of the country and there is no discussion of a draft.'"
A former network correspondent for CNN and NBC, Bode points out, "The truth is, as Colin Powell put it recently, the U.S. Army is 'about broken.' Lute pointed out that the war is causing stress to military families and having an impact on levels of re-enlistment. In two of the last three months, the Army missed its recruiting goals."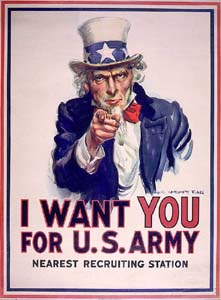 The professor reports, "Summer is the prime recruiting season for the all-volunteer force, and the Army recently added 1,000 recruiters to fan out to county fairs, rodeos, X-Games, NASCAR events and low-end shopping malls, hustling iPods, video games and tee-shirts, selling adventure, education and careers in the Army. The recruiters are also armed with a new $20,000 'quick-ship' bonus for anyone who can report to basic training by Sept. 30. The Army has relaxed its requirements on age and education, and recruiters are known to break or bend the rules to fill their quotas. Like what? Like hiding police records and medical histories, teaching kids how to falsify a high school diploma and clear illegal drugs from their systems. Like telling recruits they will not have to go to Iraq or that they will just have to play in the band. These practices became so widespread that last year the Army ordered a stand-down to address recruiting irregularities and retrain recruiters in military ethics."
Dr. Bode's op-ed begins by noting that Republican Mitt Romney, when asked if his five sons -- who are working on his presidential campaign -- would serve in Iraq, responded: "It's remarkable how we can show our support for our nation, and one of the ways my sons are showing support for our nation is helping to get me elected, because they think I'd be a great president." Bode retorts, "I guess it's more or less like the Bush twins, Barbara and Jenna, showing support for the nation by partying all over Georgetown."

In conclusion, the professor asserts, "America is scared to death of a draft, but the way things go now, neither the Romney boys nor the Bush girls will ever have to worry about meeting an Army recruiter. As a result, their fathers will always find it easier to lead the country into war."
Read the complete essay at College News.org.
In his last column, published August 3, Ken Bode wrote of Sen. Fred Thompson's apparent presidential aspirations. Access the text via this story.
Source: Indianapolis Star
Back