Fulbright Recipient John Porter '02 Featured in St. Louis Post-Dispatch
August 19, 2007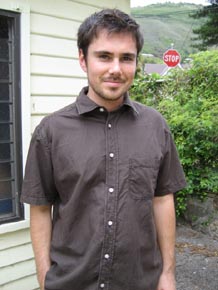 August 19, 2007, Greencastle, Ind. - "It's high fives all around to John Porter, 1998 Chaminade Prep grad, who just found out that he has been selected to receive a Fulbright Graduate Research Fellowship for the upcoming academic year," writes Deb Peterson in the St. Louis Post-Dispatch. "The grant -- which is given to only 1,300 people annually -- will allow Porter to travel to Osaka, Japan, where he will serve as a special researcher ("tokubetsu kenkyuin") at the Osaka City University's Urban Research Plaza. His research is focused on urban poverty and urban slums in Osaka during the late 19th and early 20th centuries."
The columnist continues, "After graduating here, Porter got a bachelor's degree from DePauw University in 2002 and a master's from the University of California at Santa Barbara in 2005. He is currently
working to complete his Ph.D. at the University of Hawaii at Manoa."
Access the complete text at the newspaper's Web site.
Read more about John Porter's Fulbright Award in this previous story.
Back