Dean Robert Farber '35 Receives Old Gold Goblet
October 4, 1980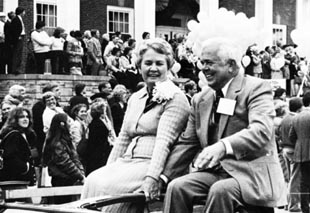 October 4, 1980, Greencastle, Ind. - Robert H. Farber, a 1935 DePauw graduate who has twice served as the University's chief administrative officer, today received the Old Gold Goblet from his alma mater. Dr. Farber, who retired last year after serving DePauw for almost 45 years, received the award from James Emison '52, president of the DePauw Alumni Association. (photo at left: Dean Farber and his wife Edna riding in the Old Gold Day parade)
Receipt of the Goblet, DePauw's highest alumni award honoring "eminence in life's work and service to alma mater," signals what amounts to a clean sweep of the University's major honors for Farber. He earlier received the students' Leather Medal for service to DePauw as well as an honorary doctoral degree.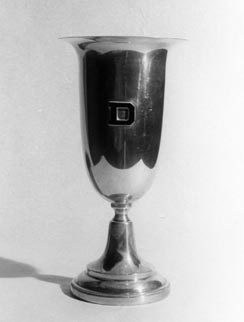 "When I last stood on this spot, on the occasion of my retirement [in 1979], Tom Mont introduced me with the comment, 'No one is perfect and Bob Farber is a perfect example.' It made me feel right at home. I thought I was in a faculty meeting," Farber quipped as he received the Old Gold Goblet. "Today I feel at home with so many DePauw alumni. In fact, it was an alumnus -- Rex Pruitt, my football coach at Geneseo (Illinois) High School, who told me about DePauw."
Dr. Farber continued, "I was a fullback for four years in high school, but I cannot say that Gaumey Neal recruited me. In fact, when I talked to him that freshman year, I had the impression that he thought I should try out for the debate team. That was in 1931, almost 50 years ago. Except for the war years, I have been here ever since. Some
say I came to DePauw and never got out. Edna and I have lived all of our married life here ... and it has been a rewarding experience."
Bob Farber served five DePauw presidents over the years, and on two occasions headed the University. In 1962, following the death of President Russell Humbert, Farber became chief executive officer. In 1976-77, prior to the appointment of DePauw's current president, Richard F. Rosser, Farber served as acting president.
A Rector Scholar at DePauw, Farber served his alma mater successively as secretary of admissions, director of the Rector Scholarship Foundation, and assistant dean of men. He was appointed dean of the university in 1952, and in 1974 took on the additional responsibilities of vice president.
Back