Dean Robert Farber '35 Receives Rector Scholar Alumni Achievement Award
June 5, 1960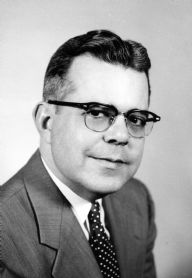 June 5, 1960, Greencastle, Ind. - For the first time in the 13-year history of the honor, DePauw's Rector Scholar alumni achievement award has gone to a member of the University staff. The 1960 winner is Robert H. Farber, academic dean of the University, who received the award today at noon during the annual Rector alumni dinner. Given each year to a Rector Scholar alumnus from the 25th anniversary class, the award recognizes outstanding professional accomplishments.
Dr. Farber has held his present position at DePauw since 1952 and previously was assistant dean of students, director of the Rector Scholarship Foundation and director of placement.
A 1935 graduate of DePauw, Farber was employed in the University's office of admissions for one year, then spent the following year as a speech teacher at the Bloomington, Indiana high school. He returned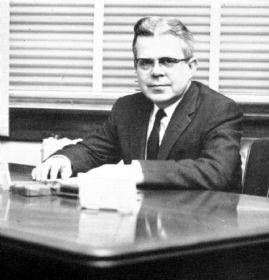 to DePauw in 1937 as secretary of admissions, but left again in 1941 to begin a five year service stint. At the time of his discharge, he was classification officer with the Third Army in Europe.
In 1946, Bob Farber rejoined the DePauw administration as director of veterans affairs and head of the placement bureau.
Dean Farber holds the master of arts degree from the University of Chicago and the doctor of education degree from Indiana University. A personnel consultant for the International Cooperation Administration and the Methodist board of education, he is a member of the North Central Association's commission on colleges and the Indiana Fulbright selection committee.
Back