Robert H. Farber '35 Appointed Dean of the University
April 19, 1952
April 19, 1952, Greencastle, Ind. - Robert H. Farber, a member of the DePauw staff for 16 years, was today appointed dean of the University. He succeeds Louis W. Morris, who has resigned to become president of MacMurray College in Jacksonville, Illinois.
Farber served DePauw as secretary of admissions and assistant director of the Rector Scholarship Foundation, before leaving the University to join the U.S. Army in 1941. During World War II, Farber rose from the rank of private to major, and at the end of his military career in 1946 he was classification officer with the Third Army. He served in the European Theater and earned the Bronze Star.
Upon his return to DePauw, Farber became director of veteran affairs and the University's placement program, and was appointed director of the Rector Foundation. Since 1948, he has been assistant dean of students, director of the Rector Foundation, and director of placement.
"Dr. Farber's background as both a student and in the more recent years as an administrator have adequately equipped him for this important position," says DePauw President Russell J. Humbert. "By native endowment he is an administrator. By training he is an educator and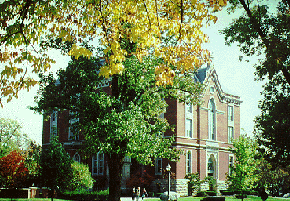 his years of experience here at DePauw in various offices make him a natural selection for this administrative post."
Farber received his master of arts degree from the University of Chicago in 1940 and the doctor of education degree from Indiana University last year.
President Humbert added, "Dr. Farber will be an able and understanding administrator, utilizing the strength to be found in the various departments of the faculty."
Back