Robert Farber '35 Named Acting President of the University
August 20, 1976
August 20, 1976, Greencastle, Ind. - Robert Holton Farber was today named acting president of DePauw University. Farber, a 1935 DePauw graduate who has been vice president and dean of the University, assumes responsibilities performed since last December by Indianapolis banking executive Thomas W. Binford. (at left: Robert Farber; below right: Thomas Binford)
The chair of DePauw's Board of Trustees, Richard D. Wood, says Dr. Farber will serve as acting president until a new president has been formally elected by the board. Farber will continue to serve as dean during this interim period.
Wood noted that Binford has served four months beyond his original
commitment to fill the acting presidency at DePauw. He said that this fact, coupled with the recognition of Binford's full-time responsibilities as chairman of a major banking institution, prompted the board to name a new acting president.
"Tom Binford has done a superb job during this transitional period as we prepare for a new president," says Wood. "Everyone associated with DePauw is grateful to him for sharing his time, his talent, and his counsel. We are delighted that he is continuing his relationship as a DePauw Trustee and member of the campus Community Concerns Committee," he added.
Dr. Farber has been a member of the University administration continuously -- except for military service -- since 1937 when he became secretary of admissions and assistant dean of the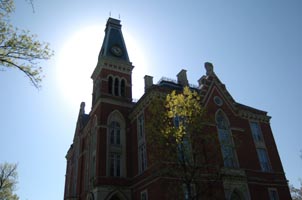 Rector Scholarship Foundation. He became assistant dean of students and director of placement in 1947, and in 1952 was named academic dean. In 1962-63 he also served as DePauw's chief administrative officer following the death of President Russell Humbert. In October 1974, Farber assumed additional responsibilities as vice president of the University.
Robert Farber holds the master of arts degree from the University of Chicago and the doctor of education degree from Indiana University.
Back