Prof. Dave Berque and David Becker '75 Cited in Story on Innovative Educational Software Company
August 20, 2007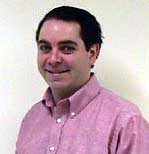 August 20, 2007, Greencastle, Ind. - "Dave Berque, a professor at DePauw University, created the original DyKnow software, known as 'DEBBIE,' in the late 1990s," reports today's Indianapolis Star. Dr. Berque, professor and chair of computer science at DePauw, is cited in a profile of DyKnow, an Indy-based educational software company. David Becker, a 1975 graduate of DePauw, is chairman and CEO of the firm.
"DyKnow has more than doubled its customer base every year since its software went on sale in 2002," writes Erika D. Smith. "Its work force has grown to 30 from 10 in 2005. And revenue is expected to more than double this year, as it has in previous years."
Dave Berque'swork at DePauw led to the development of pen-based technology, now known as DyKnow Vision, that is being used in classrooms around the country. The system, which is manufactured and marketed by DyKnow, was demonstrated by the professor in a recent appearance on Indianapolis CBS affiliate WISH.
Access the complete article, headlined "A software Dyknow-mo," at the Star's Web site.
On May 18, Dave Berque, Tenzer Family University Professor of Instructional Technology at DePauw University, received the 2007 Mira Techpoint Award for "Education Contribution in Technology - Individual" for his efforts to create the software that is now marketed as DyKnow Vision.
In 1997, Berque's efforts earned him recognition as the Carnegie Foundation for the Advancement of Teaching Outstanding Baccalaureate Colleges United States Professor of the Year.
Source: Indianapolis Star
Back