Campaign for New Memorial Student Union Building is Launched
November 9, 1946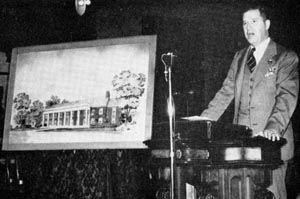 November 9, 1946, Greencastle, Ind. - DePauw University has a pressing need for a central meeting place for its students which a new Union Building would remedy, noted speakers at today's Old Gold Day chapel. The event filled Meharry Hall. Parker Jordan '11, president of the DePauw Alumni Association, presided at the event. He spoke alongside a sketch of the Memorial Student Union Building to be constructed in memory of DePauw's World War dead.
The campaign for the new Memorial Union Building, which will cost $475,000, was officially launched last night with a kick-off dinner in the Riley Room of Indianapolis' Claypool Hotel. Eugene C. Pulliam '10, owner of the Indianapolis Star and radio station WIRE, served as toastmaster. Other speakers included Lloyd M. Cline '19, national chairman of the Union Building campaign and member of DePauw's Board of Trustees;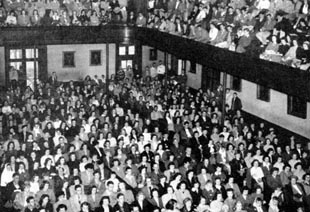 Willis B. Conner '20, Indiana state chairman; Wayne A. Johnston, president of the DePauw Dad's Association; and Charles Roberts, a member of the junior class at DePauw, representing the student body.
The design of the building is based on the central unit of a memorial hall on the first floor. The building will be available for use by students, alumni and visitors.
The basement will feature a fountain room, bowling alleys, game rooms, a craft shop, kitchen and service rooms. The main gallery will be designed as a gallery for art and other exhibits, and a large terrace will be constructed at the rear of the building. The first floor will have a large ballroom with a stage, reception room, dining room, main lounge and other amenities. The second floor will have broadcasting rooms for DePauw's semi-weekly radio programs. Most of the other space on the second level will be made available for use by student organizations.
At today's chapel, DePauw President Clyde Wildman '13 commented that he was "still under the spell of last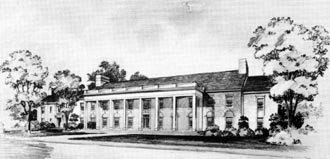 night's meeting." He said that he had never seen a more enthusiastic gathering of alumni and that the display of DePauw spirit was an inspiration.
The enthusiasm of DePauw undergraduates for a Union Building is clear. Already, the women students alone have contributed $3,300 toward the construction project.
The DePauw University Band, under the direction of Professor Franklin Inglis, played at the Boulder from 10 to 10:30 a.m., at which time the chapel convened, opening with a 15 minute pep session for the afternoon game with Oberlin.
Back