Senior Calls for End to "Collective Neglect" of Generational Poverty in Cincinnati Enquirer
August 21, 2007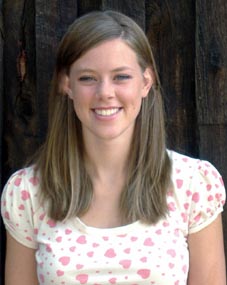 August 21, 2007, Greencastle, Ind. - "We need to ask, ourselves, at what point do these children become unlovable?," writes Laura McOsker, a DePauw University senior, in today's Cincinnati Enquirer. "When should we stop fighting for them? When they are 2 years old, or 5, or when they become teenagers with no role models and no hope?" McOsker's column follows her work this summer at a youth program at a Cincinnati church which "is at the center of a community in which a third of the residents live under the federal poverty level."
McOsker, an English major from Loveland, Ohio, writes: "The kids in this camp weren't in protective custody, but they need intervention and protection on a far greater scale -- they need a change in how Cincinnati views those living in poverty. The poor we scorn are mothers and fathers trying to raise children in a world too cruel for kids, the same world in which they themselves were raised in. These kids deserve to be so much more than collateral damage of our collective neglect."
She concludes, "Let's find a solution for Marcus, for Lexi, for Zeb, for all of Cincinnati's children, before today's lovable little ones become the next generation to raise their children in poverty, in the heart of a city that once claimed to feel the suffering of children."
Access the complete text, headlined "Change our hearts to end generational poverty," at the newspaper's Web site.
Back