Newspaper Profiles Irving and Rachel Heath ('41 & '40) as Milestone Nears
August 21, 2007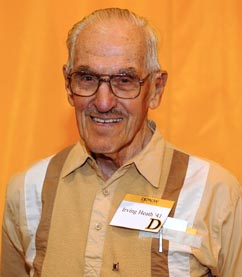 August 21, 2007, Greencastle, Ind. - Irving M. Heath, a 1941 graduate of DePauw University, "has been instrumental in building Noblesville into the community it is today," reports the Indiana community's Daily Times. Heath and his wife, Rachel (Waltz), are the subject of a feature previewing their upcoming 65th wedding anniversary on September 5.
"Rachel, an Arcadia native and Irving, originally from Worcester, Mass., met at DePauw University in Greencastle during his sophomore year," writes Steven Furlow. "Majoring in English and business, Heath graduated in 1941 and moved back to Worcester to take a job selling pharmaceutical products for Brewer and Co. It was during this time that Japan attacked Pearl Harbor, making it only a matter of time until the United States would be at war ... Sent to Fort Knox in Louisville, Ky., Irving began basic training. His fiancé, who was working at a bank in Indianapolis, helped him through the tumultuous times."
The couple was married in 1942 when Irving Heath took a four-day leave from the Army. "Life wasn't easy for either of the Heaths as Irving was sent on maneuvers around the country in preparation for overseas fighting and Rachel followed the news of her husband's division with other military wives," notes the newspaper. "The Heaths were able to spend time together before Christmas in 1943 until Irving was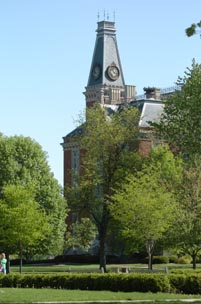 shipped out on Dec. 27. It would be the last time he would be home until 1945, when he returned to Newport News, Va. after serving 21 months throughout England, France and Czechoslovakia. For his service, Heath was awarded two Purple Hearts and a bronze star, among other commendations."
Furlow points out that Rachel Heath taught at Noblesville High School, while her husband, who started Cresson and Heath Insurance Agency, "was a founder of the Noblesville Boys Club in 1950 and served as president, vice president, secretary and board member for 41 years. He has also served with the Hamilton County Historical Society, with the Noblesville Chamber of Commerce and as a precinct chairman for the Republican Party for 18 years. He also served for two years on the board of trustees at DePauw University." In 2006, he received a Community Leadership Award from DePauw.
Read the complete story at the Daily Times' Web site.
Back