1985 Graduates Urged to Carry On Nation's Philanthropic Tradition
May 25, 1985
May 25, 1985, Greencastle, Ind. - Philanthropy may be America's most distinctive tradition, but it may also be in serious jeopardy, says Robert L. Payton, president of the Exxon Education Foundation. Payton delivered the address today at DePauw's commencement ceremony, where nearly 500 students received their diplomas.
The idea of voluntary giving -- like public interest in religion and liberal education -- seems to have become less important in American society, Dr. Payton said. The former college president and U.S. ambassador links liberal education, religious values and
voluntary service. "They add up to a view of society that has made an enormous contribution to the world," he told the crowd that filled the lawn in the shadows of historic East College. "The U.S. is the most committed country in the world to voluntary philanthropy. The philanthropic tradition is America's most distinctive virtue perhaps, but the web is weakening and is in serious jeopardy," he stated.
Payton noted, "A British writer once said that the test of a civilization is found in the way it treats its children. What we pass on as dynamic and living tradition, of what we believe to be the best of our heritage, the values that we most want to preserve and protect, is now in your hands. We have not treated it well, but perhaps we have begun to realize that we have something very special in these traditions, something we must no longer
take for granted."
He concluded, "Change the tradition if you will, and as you choose. But think on it. The best thing you can do for my benighted and bemused generation is to think about, and care about, those who come after you."
The 1985 recipient of the Walker Cup, Kathy Ann Patterson, told her classmates, "No matter what knowledge DePauw has given us, regardless of our major or minor, we have all learned how to learn, and, therefore, we can adapt to most situations."
Patterson added, "Hopefully, we will all do our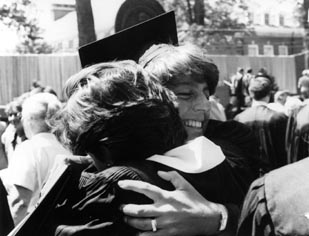 best to keep in touch and keep our DePauw experience alive through Old Gold visits, class reunions, and letters ... Set your goals high yet attainable, be proud of all of your accomplishments, and be happy."
Three individuals received honorary doctoral degrees: Samuel H. Beer, Mark Hampton '62 and Fred C. Tucker Jr. '40.
Special recognition was extended to two retiring members of the DePauw faculty: Felix E. Goodson, professor emeritus of psychology, and Clem C. Williams Jr., professor emeritus of English.
Back