Experience '[dNASAb] : // techno_etic' at Peeler Center, August 24 - September 23
August 22, 2007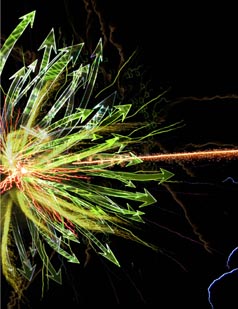 August 22, 2007, Greencastle, Ind. - "[dNASAb]: // techno_etic," an exhibition that visualizes the possible aesthetics of wireless data and the fetishization of technology, will be on view at the Richard E. Peeler Art Center at DePauw University from August 24 through September 23, 2007. You're invited to attend an opening reception with a talk by the artist on Thursday, August 23, at 4 p.m. That program and the exhibition are both free and open to the public. (at left: SPAWNDATA, 2006; Durst Lambda print, courtesy of the artist)
What do we really know about all those jumbles of invisible frequencies, waveforms, and continuous analog frenzies of data feeds? They are propelled at us daily from Blackberry farms, hotspot communities, and our satellite-saturated heavens above. If visible, what would every teenager's cell phone conversation in a 12-block radius resemble? Would there be individual forms, color bands, or even a collective composite of teenage angst?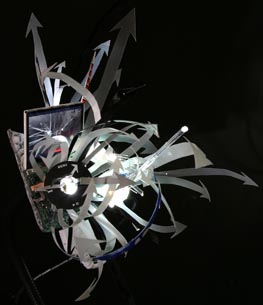 New York artist [dNASAb] explores these possibilities with new works in photography, drawing, painting, and assemblage sculpture. Informed by the integration of art installation, sound, and technology, [dNASAb]'s new work is richly intricate and visually stunning, each piece suggesting a "visual network" formed from explosions of mass techno-pod communication graffiti. In [dNASAb]'s haunting and ethereal photographic works, the artist transforms his Brooklyn studio into a "visual network" installation by photographing his large-scale paintings juxtaposed with his synthetic-biomorphic sculptures. In several of his photographic works, the artist expands the photograph by further layering painted representations of intertwined communicative paths and data nodes, creating a composition of infinite dimensions. (above right: iPod ecosystem #D-3, 2007; iPod, plastic, resin, acrylic, aluminum, airbrush paint, fiber optics, video and video playlist, courtesy of the artist)
[dNASAb] received a BFA in sculpture and in Mixed Media from Florida State University in 1994. He was selected by Cindy Sherman, Jack Pierson, and Adam Fuss for Unframed First Look 2004, a juried salon for emerging artists "whose work will be galvanizing the art world in the months and years to come" at the Sean Kelly Gallery in New York. In March 2005, the artist was a winner in the Los Angeles Center For Digital Art's international competition for photography and
digital artists. He has exhibited and has collaborated extensively in new media art installations, interactive multimedia projects, and art performance in New York and internationally since 1997. The artist lives and works in Brooklyn, New York. (left: DATAecosystem, Manhattan aveNODE, 2006; Durst Lambda print, courtesy of the artist)
The galleries at the Richard E. Peeler Art Center are open Tuesday through Friday from 10 a.m. to 4 p.m.; Saturday 11 a.m. - 5 p.m.; and Sunday 1 - 5 p.m., and are closed during University breaks and holidays. For more information, visit the galleries online or send an e-mail.
Back