Incoming Freshman Class Full, Waiting List Established
May 6, 1985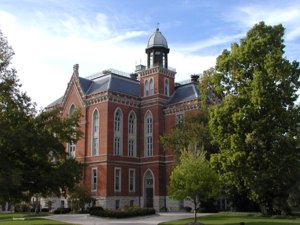 May 6, 1985, Greencastle, Ind. - In a phenomenon few colleges in the United States are experiencing, DePauw University has closed enrollment for this fall's freshman class and is establishing a waiting list for applicants. DePauw originally planned to enroll 685 new students in August. "Right now we have 698 committed with several on a waiting list," says David Murray, assistant vice president for admission and financial aid.
Since there's typically some attrition during the summer, Murray says students on the stand-by list will be moved into any slots that might become available. "We have to cut enrollment off for housing purposes and to retain small classes," Murray added.
Despite the dramatic decline in college-age students nationwide, it's been a banner year for admissions at DePauw. The University has had a record number of applicants (2,252), SAT scores are up, and so is the average class rank in high school. Geographically, applications are up for all regions of the U.S.
except New England.
Murray says the early impact of DePauw's $100 million sesquicentennial fund drive is a factor in the enrollment surge, since some of the funds are earmarked for endowed scholarships and financial aid. "The bottom line, of course, is DePauw's academic reputation," he says. The University's new options, including the Management Fellows Program and recently announced Center for Contemporary Media, are also attracting outstanding applicants.
Prospective students who would like more information on DePauw University can click here.
Back