Study & Conduct Research Around the World With a Fulbright Award
August 23, 2007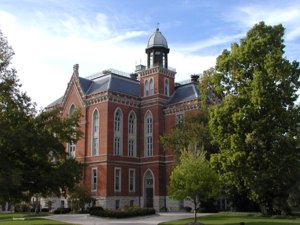 August 23, 2007, Greencastle, Ind. - DePauw University students seeking opportunities to study, research or teach English abroad are invited to apply for the 2008-09 Fulbright U.S. Student Program competition. Sponsored by the Bureau of Educational and Cultural Affairs of the United States Department of State, the Fulbright competition has provided future American leaders with an unparalleled educational opportunities in other nations for more than 60 years.
Fulbright student grants aim to increase mutual understanding among nations through educational and cultural exchange while serving as a catalyst for long-term leadership development.
An interest meeting and workshop will take place next Monday, August 27, at 4 p.m. in room 151 of the Julian Science and Mathematics Center. "Although this meeting is primarily for seniors who are seriously interested in applying for a Fulbright, non-seniors may find the information useful as they consider options for the future," says Douglas E. Harms, professor of computer science and DePauw's Fulbright program adviser. "At the meeting students will learn about Fulbright program opportunities to teach and do research

in over 140 countries and have the opportunity to ask questions about the application process."
Four members of the DePauw community -- three students and one alumnus -- received Fulbright Awards for the 2007-08 academic year. Nishita Trisal will spend a year in Indonesia teaching English to young people. Michael R. Roberts will spend a year in Berlin, Germany teaching English language and literature and studying postmodern theatre and theatrical adaptation theory. Jeyson H. Florez will research wealth distribution and poverty in Costa Rica. John P. Porter, a 2002 graduate of DePauw, will travel to Osaka, Japan and serve as a special researcher ("tokubetsu kenkyūin") at the Osaka City University's Urban Research Plaza.
Applicants to the Fulbright U.S. Student Program must be U.S. citizens at the time of application and hold a bachelor's degree or the equivalent by the beginning of the grant. In the creative and performing arts, four years of professional training and/or experience meets the basic eligibility requirement. (Professional applicants lacking a degree but with extensive professional study and/or experience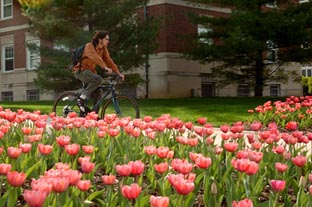 in the field in which they wish to pursue a project may also be considered.) The Fulbright U.S. Student Program does not require applicants to be currently enrolled in a college or university. Applicants from young professionals interested in an international experience are also encouraged.
For more information, applicants should visit the Fulbright U.S. Student Program Web site. Students currently enrolled at DePauw should contact Dr. Harms via e-mail for application forms and further information. Applications must be submitted both electronically and in hard copy by the campus closing date of October 1, 2007, in order to be received by the national deadline.
Back