NSF Chooses DePauw to Operate Science Program in Germany
December 28, 1967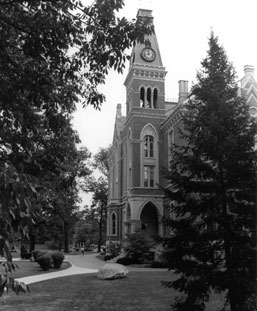 December 28, 1967, Greencastle, Ind. - DePauw University will send six of its scientists to Munich, Germany, this summer to conduct a science institute for overseas school teachers. Announcement of the unique six-week program was made jointly today by DePauw and the National Science Foundation. The NSF is supporting the project with a $56,300 grant.
The grant to conduct the institute for elementary and junior high school mathematics and science teachers in American military and international schools was one of two of its type made this year by the NSF. A similar session will be conducted in Japan by the University of Hawaii.
DePauw faculty members slated to teach in the June 23-August 2 program are: Donald J. Cook, chemistry (pictured); Forst D. Fuller, zoology; Clinton B. Gass, mathematics; Paul B. Kissinger, physics; James A. Madison, geology; and Howard R. Youse, botany.
The institute at the Munich American High School will be under the joint administration of Professors Gass and Cook. Both educators have directed NSF-sponsored institutes on the DePauw campus. The first of nine consecutive NSF sessions started at DePauw in 1959 when a
University-taught science course patterned on a team-teaching approach was developed here for public school teachers who needed a broader science background.
The 40 overseas teachers who will receive training in the DePauw Munich program will be enrolled in a unified science course. It will utilize laboratory work, lectures and field trips.
Most of the teachers will be Americans teaching in American schools that serve dependents on U.S. military installations in Europe and the Middle East. The remainder will be teachers from U.S. operated "international" schools that educate dependents of personnel in the U.S. diplomatic corps and business community.
According to Dr. Gass, who recently returned from Munich, transporting an entire institute facility overseas is a shift in policy for the NSF. Previously, overseas teachers and their dependents were brought on an educational leave to the United States to attend summer NSF parlays. This was curtailed, however, when the number of applicants became so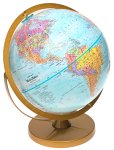 large that they could not be accomodated in the U.S. The result was the establishment of overseas centers.
The DePauw institute is being established at a particularly significant time academically, according to Gass. The adoption this year of considerably more sophisticated science textbooks in the overseas schools has caught many teachers there with inadequate backgrounds in science, he says. "All the 7th and 8th grade classes in the dependent schools will be going into a new program. The physical and biological science textbooks are quite sophisticated. Many of the teachers who will be in the program never have had suitable preparation for this sophisticated level of science."
Back