Former Peruvian President Fernando Belaúnde Terry Warns of Terrorist Threat in DePauw Lecture
September 25, 1985
September 25, 1985, Greencastle, Ind. - Terrorist activities in our hemisphere could change traditional alliances between the United States and Latin American nations, especially during times of war, says Fernando Belaúnde Terry, the former president of Peru. Belaúnde addressed a standing room only crowd at DePauw University's Meharry Hall today as part of a three-day visit to the Greencastle campus.
"I wonder what would happen in a future conflict in which perhaps the continent would not be (allied) along the same lines," the former president said. "If (terrorists) could establish a beachhead in South America, it would be very grave ... The terrorist movement is a matter of international politics much more than a matter of an internal police situation ... it has an international motivation and we have to understand it so measures can be taken -- on one hand to improve conditions, and on the other to be aware of defense measures in the event of an emergency."
In a separate presentation to DePauw's Management Fellows, Belaúnde discussed the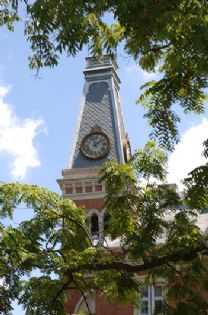 importance of unity among western nations to solve the international debt crisis.
The former president's wife, Terry, received an honorary doctorate from DePauw recognizing both her role as an adviser to her husband and her help in arranging for DePauw students to work in Peru during Winter Terms from 1981-85. The students traveled as part of the Chaplains' Office Winter Term in Mission program. While in Peru, the undergraduates built churches and schools, provided health care to villagers, and constructed a model irrigation system.
The Belaúndes also met with Spanish and political science classes during their stay at DePauw.
Mr. Belaúnde is presently a professor of political science at George Washington University in Washington, D.C. He served as president from 1963-68 before being exiled to the United States following a military takeover. He founded the Popular Action Party in Peru, and returned to office in 1980 as the first elected president after almost 12 years of military rule.
Back