2007-08 Academic Year is Under Way
August 22, 2007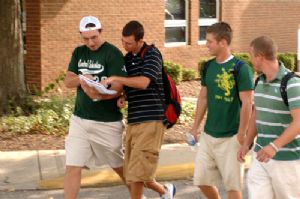 August 22, 2007, Greencastle, Ind. - The 2007-08 academic year is officially under way. Under sunny skies and a temperature of 76 degrees, this morning DePauw University students made their way to their first classes of the fall semester. About 2,400 students are enrolled at DePauw; the total will not be official until approximately September 10 as undergraduates adjust their schedules.
"As DePauw begins its 171st year of educating tomorrow's leaders, we look with excitement to the year ahead," says President Robert G. Bottoms. "As our new students begin their college careers, the University's historic traditions are being
carried forward. It's a time to reflect on the generations of students who have had the opportunity to learn and live here, and to celebrate what a wonderful institution we have."
One of the largest entering classes in DePauw's recent history begins its studies today. The 694 members of the Class of 2011 represent 35 states and 19 foreign countries. The freshman class includes more than double the number of international matriculants (31 versus 15 last year) and about 11% more valedictorians and salutatorians than the group that arrived in Greencastle in August 2006. Twenty-two percent are first generation college students
(vs. 15% in 2006), while 20% of enrolling students have DePauw alumni ties (up from 18%). Excluding international students, 16% of the incoming class come from multicultural backgrounds; that grows to 22% if the international total is included.
The incoming class arrived on the Greencastle campus Saturday. After moving in to their living units, the new students and their parents heard from Dr. Bottoms at the opening convocation. "You will have your imagination stimulated, you will learn to live with determination," the president told the new college students. "You will leave this place in four years determined to use your education to make a difference in the world."
Read more, and access video and audio clips from Saturday's event, in this previous story.
Back