Former Astronaut Joe Allen '59 Receives Old Gold Goblet
October 5, 1985
October 5, 1985, Greencastle, Ind. - "When I was a student, I learned that F=MA (force equals mass times acceleration," Joseph P. Allen IV recalls of his undergraduate education at DePauw University. "But if I'd known that I one day would risk my life based on that equation, I might have studied it much harder," quipped the former astronaut as he received DePauw's highest alumni honor, the Old Gold Goblet.
"As different as astronauts are, we are bound together by one thing," the 1959 DePauw graduate stated. "We have all been profoundly affected by one teacher." For astronauts, that teacher -- an instructor pilot -- is referred to as an IP.
But in his case, Dr. Allen maintains, the IP was overshadowed by DePauw faculty members: an "MP" (mathematics professor) Clint Gass, a "CP" (chemistry professor) Donald Cook, a "PP" (physics professor) Malcolm Correll, and an "EP" (English professor) Jerome Hixson.
"A DePauw education travels well, and it can take you on a long and remarkable journey," asserts Allen, who received advanced degrees from Yale University and has flown on two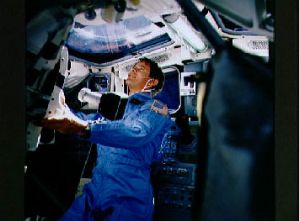 space shuttle missions -- the first operational mission on Columbia in 1982 and the first satellite salvage mission on Discovery in 1984.
Joe Allen's extensive ties to DePauw go back more than 100 years to his great-great grandfather, Professor William F. Swahlen, who was a professor of Greek at DePauw from 1887 to 1914. Other DePauw-connected members of Allen's family include his grandfather, Joseph P. Allen '97; father, Joseph P. "Perk" Allen, professor emeritus of economics; mother, Harriet Taylor Allen '28; brother, David T. Allen '61; and his wife, Bonnie Jo (Darling) Allen '61.
Back