Defense Department Appoints Prof. Clinton Gass to Overseas Post
April 29, 1969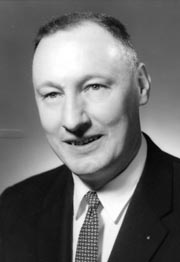 April 29, 1969, Greencastle, Ind. - The U.S. Department of Defense's Education System has named DePauw University's Clinton B. Gass as a part-time overseas consultant in mathematics. The chair of DePauw's department of mathematics and astronomy, Dr. Gass will be on sabbatical leave during 1969-70 to fill the one year appointment in Munich, Germany.
Gass will visit DOD military dependent schools throughout Europe, Scandinavia, the Middle East and North Africa. He will confer with administrators and teachers at the elementary and secondary level and conduct short in-service programs for teachers.
In the past, the professor has served on special appointments for the National Science Foundation's mathematics section in Washington, D.C., and is currently serving as an evaluator of college and university summer institute proposals for the NSF.
Prior to beginning his duties for the
Department of Defense in its Munich headquarters in August, Gass will serve as director of a special DePauw University science institute for teachers who are employed by the American government in Europe. This summer program, which will last six weeks, also will be held at Munich at the Munich American High School under the auspices of the NSF.
Clinton Gass joined the DePauw University faculty in 1954. He received his A.B., magna cum laude, from Gustavus Adolphus in 1941, then earned the M.A. and Ph.D. from the University of Nebraska in 1943 and 1954, respectively.
Back