Garry Trudeau & Astronaut Joe Allen '59 On Hand as 542 Receive Diplomas
May 21, 1983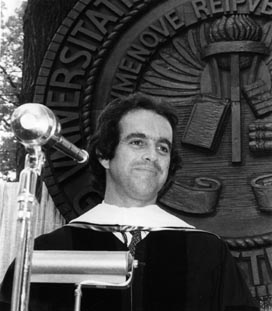 May 21, 1983, Greencastle, Ind. - "If your elders wish any success for you graduates, it is that the values that you have shaped here at DePauw for the last four years will keep their shape," Pulitzer Prize-winning cartoonist Garry Trudeau told the University's 542 graduates today. Trudeau, who is taking a brief hiatus from Doonesbury, was among those receiving honorary degrees at DePauw's 144th commencement.
Indiana University President John W. Ryan delivered the commencement address. "The liberal education for which DePauw University has such a towering reputation in this world, this liberal education that is the essential foundation for undergraduates, is always an unfinished affairs in two important respects," Ryan stated. "It is unfinished because you can never believe you are finished with your preparation for life. It is never finished because from the moment you are confirmed as graduates of this tradition, you are obliged to see that it is available in strength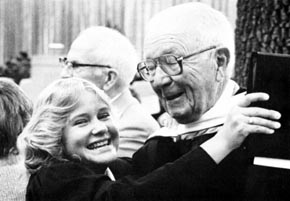 and quality for generations who will follow you."
Ryan, who has led IU since 1971, told the graduates that there is a difference between knowledge and information, the latter of whic is "the stuff for quizzes and examinations. But if information is the basis for your GPAs, it is knowledge that will be the basis for your lives. It is knowledge that will make you fit for high office, whether it be in a corporation or in government, in a church or a university. It is knowledge rather than information that is the essence of a liberal education."
The speaker continued, "You are very special men and women, you alumni of DePauw. You will become respected, perhaps even famous for your successes in business and the professions ... And for all of you, if your memories are good, then you will know that you are forever obligated to this University of yours, forever obligated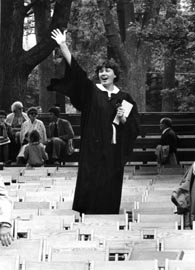 to make sure that what this University has given you is renewed and given again to all who follow you."
Dr. Ryan also received an honorary degree from DePauw today. He and Trudeau were joined by five other honorees: astronaut Joseph P. Allen IV '59; Jerome Canady Hixson, professor emeritus of English at DePauw; Louis L. Martz, Sterling Professor of English at Yale University; Ismene Phylactopoulou, founder of the College Year in Athens (awarded posthumously); John G. Smale, president and CEO of Procter & Gamble.
As he looked over his fellow honorary degree recipients, Trudeau noted, "I must say that it's a university of rare range and vision that will on the same day associate its prestige with a celebrated mission specialist, a captain of industry, four leading educators and an unemployed cartoonist. I must confess that for someone my age it is a particular honor to share this stage with Dr. Joseph Allen. It is my generation, after all, which, while in grade school, first watched that Russian satellite, Sputnik, streak across the sky and then returned to school to find that we had been assigned three extra years of math."
Trudeau continued, "Twenty-five years later our astronauts ... are arguably the only remaining heroes in a world which is no longer kind to heroes. The many disillusionments of the 1960s and 1970s have certainly taken their toll. I remember a few years ago after
Secretariat had swept the Triple Crown, a woman told sportscaster Heywood Broun that after Vietnam and Watergate, Secretariat had 'restored her faith in mankind.' With horses as our remaining heroes, it is not surprising that the values associated with heroism seem to be in such disarray."
For his part, Dr. Allen told graduates it seemed inconceivable that nearly a quarter century had passed since he received his diploma from DePauw. "The next 25 years are going to be far more exciting and remarkable than the last 25, and you will play even more exciting roles in these next 25 years and beyond," he told the Class of 1983.
Diplomas were awarded to 451 B.A. graduates, 29 B.S. in the DePauw School of Nursing, 28 B.Mus. in the School of Music, and 34 M.A.T. (Master of Arts in Teaching) candidates.
Back