"Bud" Walters '63 Calls on Congress to Preserve Radio Broadcasting Act
August 23, 2007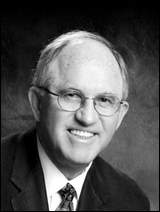 August 23, 2007, Greencastle, Ind. - "Full-power broadcasters do not oppose licensing low-power stations," writes Bayard H. "Bud" Walters, president and owner of The Cromwell Group Inc. and 1963 graduate of DePauw University, in the Tennessean. "But what we, and many listeners, do oppose is stripping away the safety net that prevents interference on stations currently broadcasting at full power."
In an op-ed in today's newspaper, Walters notes, "The Federal Communications Commission, the government agency that regulates radio stations, has protections in place to prevent interference on FM channels. But believe it or not, some in Congress are challenging these protections and advocating for their erosion. This proposed legislation would repeal critical parts of the Radio Broadcasting Preservation Act, a bill that allowed the FCC to license low-power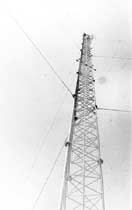 FM stations while instituting precautions designed to prevent interference with existing, full power FM broadcasters."
Walters, whose company owns 22 radio stations, supports low-power operations as providing "great opportunities" for teaching broadcasting to students, as well as local, non-commercial programming for their audiences. But he argues, "The Radio Broadcasting Preservation Act was important because it allowed for the licensing of low-power FM stations while ensuring no interference to the signals of other radio broadcasters. Congress' misguided attempts to strip out these protections could cause devastating results for FM radio listeners."
A member of DePauw's Board of Trustees and alumnus of student radio station WGRE, Walters states, "Instead of risking interference to the 232 million weekly listeners of local radio, the FCC should more aggressively process the hundreds of pending license applications of low-power stations that will comply with the interference protections. In big cities, like Nashville, there are many choices on the AM/FM radio dial and, unfortunately, this congestion offers fewer opportunities for low-power radio licenses. But in smaller towns around Nashville and throughout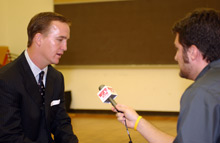 the country, there is plenty of room to operate many more low-power FM stations." (at left: a student journalist interviews Peyton Manning at DePauw, 10/26/2004)
The column concludes, "Millions of Americans tune into local radio each week. In times of emergency, the local area radio stations are about the only places to count on for help. I can't imagine Congress would want anything to interfere with that."
Read the complete text at the newspaper's Web site.
Back