Cheryl Musgrave '79 Brings "Rock Star"-Like Attention to State Post
August 26, 2007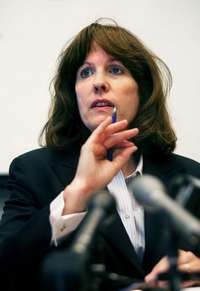 August 26, 2007, Greencastle, Ind. - "Cheryl Musgrave has certainly raised the profile of the Department of Local Government Finance since she took over at the state agency last month," notes an item in today's Indianapolis Star about the 1979 DePauw University graduate. "Until this summer's property tax fiasco exploded, few people had even heard of the DLGF, which is responsible for assuring the accuracy of property tax assessments done by county and township assessors around the state. But that has changed plenty since [Gov. Mitch] Daniels in July named Musgrave to replace Melissa K. Henson, who left the job at the end of June."
The "Behind Closed Doors" column continues, "As media types chatted recently while waiting for Musgrave to show for one of her weekly updates on the agency's review of county assessments, one wag noted the new commissioner doesn't come off like a typical numbers-crunching bureaucrat. Wherever Musgrave goes, she's surrounded by this small group of support staff, said one. 'It's like she's a rock star or something.' Responded another: 'When was the last time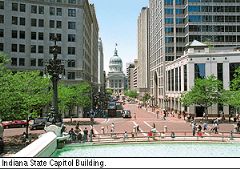 that anyone outside the media or government could even name the DLGF commissioner?'"
Access the complete text at the Star's Web site.
Learn more about Cheryl (Waldron) Musgrave in this previous story.
(top photo: Charlie Nye/Indianapolis Star)
Back