'Art of Africa: Objects from the Collection of Warren Robbins,' On Display Sept. 21 - Dec. 7
September 18, 2007
Also: 'Beyond Green: Toward a Sustainable Art,' through December 2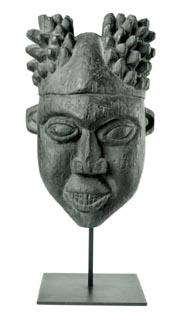 September 18, 2007, Greencastle, Ind. - "Art of Africa: Objects from the Collection of Warren Robbins," an exhibition that highlights the private collection of the former founder and director of the National Museum of African Art, Smithsonian Institution, is coming to DePauw University. The art will be on view at the William Weston Clarke Emison Museum of Art at DePauw from September 21 through December 7, 2007. (at left: mask, Kom people, Cameroon; wood)
The exhibition provides a chance to view more than 60 objects -- including sculpture, textiles, beaded clothing and jewelry -- that broadly represent the creativity and diversity of artistic expression of nearly 30 cultures of sub-Saharan Africa and illustrate the broader cultural context in which these art forms were used. This collection is on loan from the Robbins Center for Cross Cultural Communication in Washington, D.C. Warren Robbins, its founder and director, is also founder and director emeritus of the National Museum of African Art, now a branch of the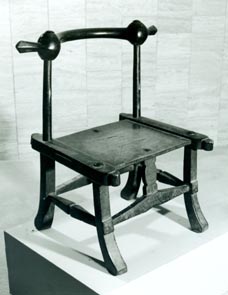 Smithsonian Institution.
Originally collected by European explorers and ethnologists as academic specimens or curios, African sculpture began to accumulate in European natural history museums by the end of the 19th century and also found their way into the hands of dealers in antiques and the "exotic" arts. At the beginning of the 20th century a handful of European artists in France and Germany were intrigued by the unique forms and styles of African art and began to draw creative inspiration from them. The aesthetic significance of African art became highly appreciated and respected in Europe and served as a catalyst for the artistic revolution that ushered in modern art around the world. (at right: chair, Baule people, Cote d'Ivoire; wood)
Dr. Ofori Ansa, the curator of the exhibition, is an associate professor of African art at Howard University, Washington, D.C. He has written for many publications and has lectured on African art throughout the world. Born and raised in Ghana, West Africa, he has curated several contemporary and traditional African art exhibitions in Ghana and in the U.S. and has led study abroad tours to Ghana for th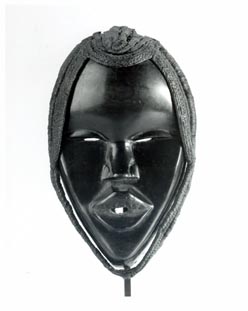 e past 6 years.
Art of Africa is toured by International Arts & Artists, Washington, D.C., a non-profit arts service organization dedicated to promoting excellence in the arts -- in all disciplines, styles and media. IA&A enriches cross-cultural understanding through its collaborations with museums and cultural institutions, showcasing artists and arts movements in traveling exhibitions to and from the U.S., Europe, Africa, Asia, and Latin America. In addition to its traveling exhibition program, IA&A's Design Studio produces a variety of print and multi-media material to enhance promotion of the arts. The USArts International Training Program arranges training placements at arts-related institutions for undergraduates, graduates and young professionals from around the world. (pictured at left: mask, Dan people Northeastern Liberia, Guinea, Cote d' Ivoire; wood and fiber)
The galleries at the William Weston Clarke Emison Museum of Art are open Tuesday through Friday from 10 a.m. to 4 p.m.; Saturday 11 a.m. - 5 p.m.; and Sunday 1 – 5 p.m., and are closed during University breaks and holidays. For more information about special events associated with this exhibition, visit the Emison Museum's Web site.
Back