Tom Mont Receives Alumni Faculty Award for "Extending DePauw Spirit"
June 15, 1983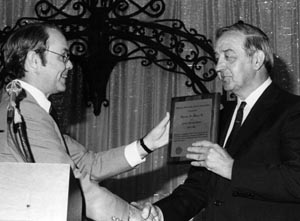 June 15, 1983, Greencastle, Ind. - "Tommy Mont has taught and coached more than 1,000 student-athletes at DePauw who have on to be productive leaders in our society," said Norval Stephens '51 as he presented Coach Mont with the Alumni Faculty Award for 1982-83. The award, initiated last year by the national alumni association, recognizes a member of the teaching faculty who contributes signficantly to strengthening DePauw's ties to her alumni and extending the spirit of the University beyond the campus.
Thomas A. Mont, currently director of athletics and chair of DePauw's department of health, physical education and recreation, came to the University as head football coach in 1959 after leading the University of Maryland's grid program. Mont led the Tigers until the conclusion of the 1976 season, when he retired from active coaching. He was named director of athletics in 1971.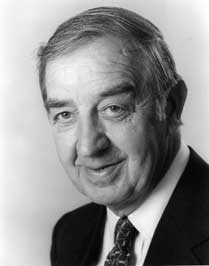 In announcing Mont's selection, Stephens -- who is president of the DePauw Alumni Association -- cited, among other things, the coaches reputation as a top after-dinner speaker. "He has entertained alumni around the country as DePauw's first line of humor. I think he has accepted every invitation to speak on behalf of the University. We are grateful that he has represented us and told the DePauw story with both good taste and good humor."
Mont is a member of the Maryland Sports Hall of Fame.
The first Alumni Faculty Award was presented last year to Paul B. Kissinger, professor of physics.
Back