Fred Silander Named VP for Academic Affairs
April 12, 1988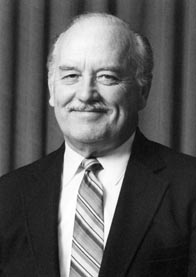 April 12, 1988, Greencastle, Ind. - Fred Silander, a 30-year veteran of the DePauw faculty, will become the University's vice president for academic affairs, effective July 1. Dr. Silander is currently vice president for finance and has been acting academic VP since July 1987.
"I am confident that Fred Silander's appointment will prove to be most beneficial to DePauw since he brings to the job such a rich history of involvement with the faculty over the years," says President Robert G. Bottoms. "In the next few years there will be exciting opportunities and challenges at DePauw, and Dr. Silander will be a valuable contributor to that future."
"I look forward to the same kind of cooperation that we have had with the faculty in the past," states Silander. "We want to communicate effectively and work together on the agenda items that have already been placed forward both by the president and the faculty and to find mutually acceptable and effective ways of
implementing them."
Silander joined the economics faculty at DePauw in 1958 and holds the rank of professor of economics and management. He was appointed dean of the faculty in January 1979, and held that post until 1981, when he was named vice president for finance.
Fred Silander received his bachelor's and master's degrees from the University of New Hampshire and a doctorate from Cornell University's Graduate School of Business and Public Administration.
Back