Prof. Orcenith Smith to Perform in Indianapolis Tribute Concert Sunday
August 28, 2007
August 28, 2007, Greencastle, Ind. - Orcenith Smith, professor of music and director of DePauw University Orchestra, will be featured as a soloist in a Jackson Wiley Tribute Concert. The performance will take place this Sunday, September 2 at 6 p.m. at Clowes Hall in Indianapolis.
Wiley, who conducted the Butler University Symphony Orchestra from 1969-91, had a large impact on music both at Butler and in Indianapolis. He founded and directed the Greater Indianapolis Youth Symphony, was conductor and music director of the Indiana Opera Theater and Indianapolis Opera Company, was music director for Indianapolis Ballet Theatre, served as director of the Philharmonic Orchestra of Indianapolis and the Athanaeum Orchestra, and was guest conductor for the Symphonic Praise Choir.
Professor Smith was selected as a soloist because of his early and long-standing association with Wiley. According to Smith, Jack Wiley was the music director of the Springfield, Ohio Symphony, "when, as a high school student, I won their Concerto Competition on tuba and was featured as a soloist. I went off to college, took the orchestra conductor position at DePauw, and then became a conductor of the Philharmonic Orchestra of Indianapolis, where, as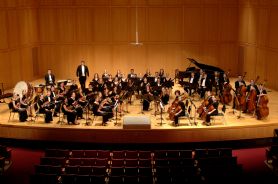 it turns out, Jackson Wiley was also conducting after he retired from Butler. He requested that I perform on this tribute concert as soloist; so, I decided to play a famous opera aria from The Barber of Seville which I had done on my New York recital and on NPR years ago and we'll have some fun with it this weekend."
Smith adds, "I have great affection for Jack and all that his musicianship has meant to so many. His relentless energies are inspiring as he continues to perform as cellist and conductor. Maybe it's in the stars that he asked me to perform: his birthday and mine are in April, exactly thirty years apart!"
For more information on Sunday's concert, click here.
Back