Frank Kaiser '57 Writes of Joys of Continuing "Best Times" a College Environment Provides
August 28, 2007
August 28, 2007, Greencastle, Ind. - "In June, when I returned to Indiana's DePauw University for my 50th reunion, I briefly considered what a joy it would be to live on or near my college campus again. Think of the intellectual stimulation, the cultural events," writes Frank Kaiser, a 1957 graduate, in today's St. Petersburg Times. In a column on the virtues of taking classes later in life, he also notes, "thousands of people are retiring to college campuses. In ventures between schools and private developers, many colleges are building retirement communities for aging alumni. Besides built-in nostalgia, returning graduates often get free classes, priority access to sport and cultural events, and an atmosphere of youthful energy and intellectual vigor."
Kaiser begins by noting, "So many older folks tell me that college was one of the best times of their lives. I agree. Perhaps that's why I continue to find myself in class -- usually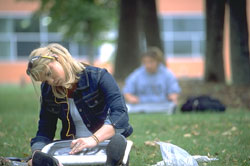 at least one a semester -- at age 71. The undergrads treat us with respect, even deference; I've often been asked advice on life issues. How refreshing it is to be taken seriously by youngsters! We seldom get that from our grandchildren. Most of all, I enjoy learning: learning what I want to learn."
Read the complete essay at the Times' Web site.
Frank Kaiser recently wrote another column in which he discussed his experiences at DePauw's Alumni Reunion Weekend in June. Access it via this previous story.
Back