Bond Shared by Former DePauw Coach Mike Steele, His Son, and ECU's Skip Holtz Featured in Charlotte Observer
August 29, 2007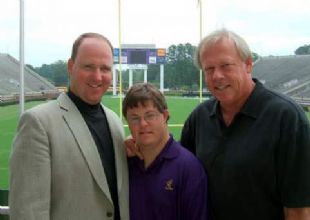 August 29, 2007, Greencastle, Ind. - The
Charlotte Observer
features a story on "the friendship between Drew Steele, Skip Holtz and Mike Steele -- three men whose relationship will make you remember that basic decency is still alive in the sports world." Mike Steele was DePauw University's head men's basketball coach from 1981 to 1987, when he took the same post at Division I East Carolina University. His son, Drew, now 22, has Down syndrome, and works part-time in the equipment room for Holtz, ECU's football coach. (photo, l-r: Skip Holtz with Drew and Mike Steele, courtesy
Charlotte Observer
)
"Drew has so many reasons to complain, and he never does," Holtz tells the newspaper. "He doesn't focus on what he doesn't have. Here I am, with so many things to be grateful for, and Drew
Steele is the one teaching me all about positive attitude."
Scott Fowler writes, "The Drew Steele-Skip Holtz Golf Classic has become an annual event each June in Greenville. It has raised close to $500,000 to start renovating an old gym in Greenville and eventually turn it into The Drew Steele Center. The center will sparkle with computers, classrooms and sports equipment while serving able-bodied and special-needs children. The tournament has also raised enough money to ensure all the public parks in the Greenville area are wheelchair-accessible."
Mike Steele, writes Scott Fowler, "grew up in Illinois, went to college at Purdue, became an assistant coach at Butler and was head coach at Division III DePauw University in Indiana by age 26. After six successful years there, he took the job at East Carolina, hoping to turn around the Pirates program and eventually leap to a larger school." Instead, Steele's teams struggled to a 48-68 record and he lost his job after four seasons. "Instead of moving, Steele and his wife stayed in Greenville and became community fixtures. Steele began a new career in insurance. And he and his wife Sandy raised two sons: Derek, who just began

dental school at North Carolina, and Drew."
The story details the bond that Mike and Drew Steele share with Holtz. Drew Steele calls the football coach "my best friend and my boss," while Holtz offers, "Every time Drew walks through that door, it's like we haven't seen each other in five years and we were in each other's wedding."
Read the complete story, which includes a photograph of the three men, at the Observer's Web site.
Back