Prof. Russell Compton to Chair Regional Meeting of Biblical Instructors
January 17, 1952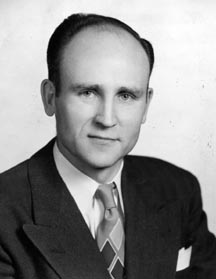 January 17, 1952, Greencastle, Ind. - Russell J. Compton, professor of philosophy and religion at DePauw University, will serve as chairman of the program committee for the regional meeting of the National Association of Biblical Instructors. The event will take place this weekend (January 19-20) at the University of Chicago.
On Saturday, Dr. Compton will read a paper, "Polarity in Religion," written by Louis W. Norris, dean of DePauw, who is unable to attend the meeting.
The conference will include representatives from more than a dozen Midwestern states.

Before joining the DePauw faculty in September 1951, Professor Compton taught at Wesley College, Hendrix College and Hamline University. He received his B.A. from Manchester College in 1931, his B.D. from Garrett Biblical Institute (193%) and earned a Ph.D. from Yale University (1939).
A native of Peru, Indiana, Compton is a member of the American Philosophical Association and the American Association of University Professors.
Back