Chapel Speaker is Prof. Russell Compton
March 26, 1952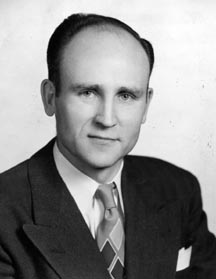 March 26, 1952, Greencastle, Ind. - "Good men are devoted to the greatest good for the greatest number," Russell J. Compton, professor and chair of philosophy and religion at DePauw University, told students at this morning's chapel. Using as his theme "Jesus is Lord," Dr. Compton called to mind the simple parables of the Prodigal Son and the Good Shepherd in emphasizing the importance of the individual human being.
"The greatest gift which Jesus gave the early Christians was a rediscovery in the belief of God. Christianity is the same yesterday, today and forever," Compton affirmed. He further called Christian belief a bulwark against confused values, mass-mindedness, and failure to evaluate human lives.

Before joining the DePauw faculty last fall, Professor Compton taught at Wesley College, Hendrix College and Hamline University. He received his B.A. from Manchester College in 1931, his B.D. from Garrett Biblical Institute (1935) and earned a Ph.D. from Yale University (1939).
Learn more about the professor in this previous story.
Back