Season Opener Sees Monon Bell Return to DePauw, 13-7
September 22, 1945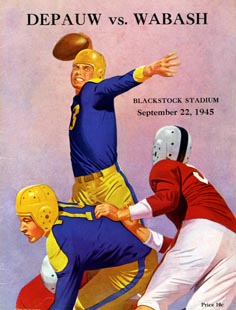 September 22, 1945, Greencastle, Ind. - The first game of the 1945 football season was doubly sweet for Gaumey Neal and his DePauw Tigers squad. The team delivered a victory for the home crowd, and it came against arch rival Wabash College. The 13-7 triumph gives the black and gold possession of the Monon Bell, a rivalry dating back to 1890.
As the Navy V-12 unit at DePauw is scheduled to leave campus on November 1, Coach Neal has only set up five games for the Tigers to play. They roared to an early lead and never looked back on this day.
In the second quarter, a fake field goal got DePauw on the scoreboard. Instead of a kick, Bob Dobbins threw a 21-yard touchdown pass to Clint Bostick. In the third period, Vance Van Dine ran the ball in from 13 yards out. A late score by Wabash was not enough to change the outcome.
Neal's 44-member unit takes on Illinois Normal next Saturday.
View a "Monon Memory" of the game here:

[Download Video: "1945 Monon Memory" - 3002kb]. A complete roster of the video clips -- written, produced and narrated by Ken Owen '82 -- can be accessed by clicking here.
For comprehensive information on one of college football's greatest rivalries, visit the Monon Bell Web page.
Back