A Record August at This Site With 18 Million+ 'Hits'
September 3, 2007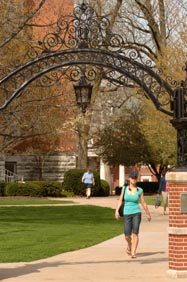 September 3, 2007, Greencastle, Ind. - August is a bustling month on the DePauw campus as students return and classes begin, and it was also a busy 31 days on the University's Web site. Traffic to DePauw.edu set records in three of four categories, as the site recorded more than 18.5 million "hits" and was visited in excess of 1.2 million times with almost 250,000 visitors.
DePauw's all-time high mark for hits was set in April 2007 (21,637,770), while March 2007 holds the record for unique visitors (393,159), visits (1,293,553) and page views (4,463,085).
About five percent of visitors to the Web site in August were from foreign countries, with the most traffic coming from (in descending order) Australia, China, Canada, United Kingdom, Netherlands, Sweden, Germany, Ireland, Japan, Singapore, Mexico, France and Spain. The average visitor spent 18 minutes and 29 seconds browsing the site, about a minute and a half longer than in August 2006.
The news area was the most-visited at DePauw.edu,with 86 new stories added during August to an archive that includes more than 6,300 articles. Major drivers of traffic to the Web site included: the announcement of "DePauw Discourse 2007: Sustainability and Global Citizenship"; stories on Golf Digest's declaration that DePauw's women's golf program is the best of any NCAA Division III college in the nation for students seeking a "balanced" experience; the University's Alpha Chi Omega winning a national award; President Robert G. Bottoms joining other American college presidents in publicly denouncing Britain's new University and College Union (UCU) boycott of Israeli educational institutions; a senior's column on generational poverty in the Cincinnati Enquirer; a preview of the incoming class; and a report on opening day activities.
| | | | | |
| --- | --- | --- | --- | --- |
| | Hits | Page Views | Visits | Unique Visitors |
| August 2007 | 18,539,661 | 4,126,868 | 1,207,770 | 246,399 |
| August 2006 | 17,133,985 | 4,250,671 | 870,631 | 236,776 |
| August 2005 | 13,050,065 | 3,107,876 | 639,186 | 159,593 |
| August 2004 | 9,044,641 | 2,321,208 | 430,016 | 124,282 |
| August 2003 | 7,447,443 | 1,783,857 | 316,635 | 77,300 |
| August 2002 | 5,892,303 | 1,092,216 | 277,856 | 61,317 |
| August 2001 | 4,126,301 | 878,450 | 192,435 | 34,390 |
| August 2000 | 1,847,521 | 586,936 | 107,644 | 21,010 |
("hits" is a count of all the successful hits including HTML pages, pictures, forms, scripts and files downloaded; unique visitors counts each user once per month; visits counts every time a user visits the site)
Back