Newspaper Recounts Legend and Lore of 'University Cave'
September 4, 2007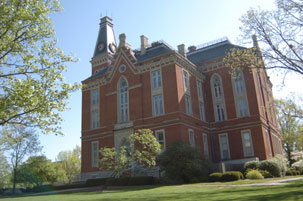 September 4, 2007, Greencastle, Ind. - "There is a cave that is rumored to run from near Blackstock Stadium beneath the DePauw campus to Boone Hutcheson Cemetery. Known by two names -- Sellers and University Cave -- it was explored as early as 1830," begins a story in Greencastle's Banner-Graphic. Maribeth Ward writes, "Today the cave is recognized in spelunking circles as being the only known cave in Mississippian Age limestone north of the Wisconsin glacial boundary."
The newspaper points out, "In 1884, a DePauw student named John Reasoner was asked to check out the cave system by the U.S. Geological Survey. He recruited another sophomore and one of his professors to accompany him into the cave. Reasoner and
his colleagues ventured in but the professor refused to go more than about ten feet fear of getting lost. The DePauw student ventured further into the cave by himself but discovered no lost artifacts or civilizations. He did find the names and dates of former DePauw students written on the walls dated 1830."
Ward reports that there is little in documented information on many things, including the size of the cave, but it is the subject of much conjecture. "Local lore has continued to grow around the cave. It is rumored to have been used by John Dillinger as an escape route during his infamous robbery in Greencastle." As it happened, she writes, "Dillinger left the county in an automobile following the robbery."
Read the complete story at the newspaper's Web site.
Back