Gift Will Provide New Stadium for Blackstock Field
February 4, 1941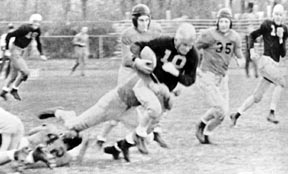 February 4, 1941, Greencastle, Ind. - A modern, brick and concrete stadium costing $80,000 will be erected on Blackstock Field during the coming year, President Clyde E. Wildman announced today at the first chapel of the new semester. The stadium is a gift to DePauw from Mrs. Ira B. Blackstock of Springfield, Illinois, who with her late husband gave DePauw Blackstock Field in 1921 at a cost of $25,000. The new stadium is to be a memorial to Mr. Blackstock, who died in 1931.
The stadium "will complete plans that Mr. Blackstock and I had in view when we gave the field to the University," Mrs. Blackstock wrote in a letter to President Wildman. "It is my desire to have it simple in construction but substantial, pratical and artistic -- a credit to the campus as well as Mr. Blackstock."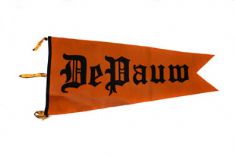 "The DePauw faculty and student body are greatly thrilled with your generous and appopriate gift honoring the memory of your devoted husband," read a message sent to Mrs. Blackstock by members of the DePauw community. They send this telegram as an expression of their love and esteem. Your gift will be deeply appreciated by alumni, by the present generation of students and faculty, and by all those generations of students yet to come. You have made us very happy."
Ira B. Blackstock earned a bachelor's degree from DePauw in 1886 and received his master's degree from the University in 1893. In 1907, he was made a Trustee of DePauw and gave invaluable service to his alma mater until his death on July 25, 1931.
Back