Prof. Valarie Ziegler Contributes to New Broadway-Bound Opera, Julia
September 13, 2007

September 13, 2007, Greencastle, Ind. - Valarie H. Ziegler, professor of religious studies at DePauw University, is serving as historian for the new opera, Julia, which will be presented September 26 & 29 at Symphony Space in New York City. The libretto for the opera is taken from the letters of Julia Ward Howe (1819-1910), an abolitionist and advocate for women's suffrage. Dr. Ziegler's book, Diva Julia: The Public Romance and Private Agony of Julia Ward Howe won the inaugural Trinity Prize.
Presented by the Underworld Opera Productions, Julia was composed by composer Henry Papale, "who scored the opera for a small chamber orchestra: clarinet, violin, cello, and piano. Professor Ziegler worked with the director, Gina Crusco, in researching the production notes which will be printed in the program, and authored a biography of Howe which will also appear in the play bill. At the conclusion of both performances, Ziegler will be a panelist in a forum in which production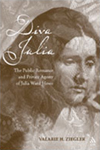 members will respond to questions from the audience.
The opera will be staged in Symphony Space's Leonard Nimoy-Thalia Theatre, located at 95th St. and Broadway.
More information on the production can be found in this story.
Back