New Book Says Dan Quayle '69 Made Key Suggestion to George W. Bush in 2000
September 8, 2007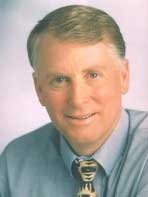 September 8, 2007, Greencastle, Ind. - In Robert Draper's new book, Dead Certain: The Presidency of George W. Bush, "Former Vice President Dan Quayle gets credit for suggesting that Mr. Bush assume the role of the reformer in the 2000 race, stealing Sen. John McCain's thunder," reports the Dallas Morning News' Wayne Slater. Quayle, a 1969 graduate of DePauw University who served as vice president under the current president's father, is global chairman of Cerberus Capital Management.
Read more about the new book at the newspaper's Web site.
An August Fortune article described Quayle as "tough, results oriented, and effective" for his role in deals such as Cerberus' recent acquisition of Chrysler.
Back