Tigers Open Football Season with 47-7 Victory at Anderson; Marks Breaks 2 Records
September 8, 2007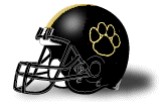 September 8, 2007, Anderson, Ind. - DePauw University piled up 521 yards of total offense and its defense forced 7 turnovers, including five interceptions, as the Tigers rolled to a 47-7 victory over Anderson University tonight. For DePauw, it was the most points in a season opener in 101 years.
It didn't take long for the Tigers to dent the scoreboard. Three plays after Anderson received the opening kickoff, DePauw's Ryan McElwain intercepted a pass by Shane Nevers. Jeremiah Marks took the handoff on the next play and scampered six yards for a touchdown, and DePauw never looked back.
Marks (pictured at right) gained 133 yards on 27 carries and scored three touchdowns. With the performance, the senior is now DePauw's all-time leading rusher and has scored more points than any Tiger in history.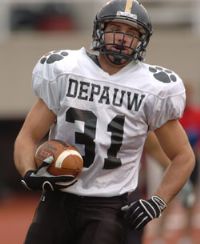 Quarterback Spud Dick threw for 247 yards and two touchdowns. Elijah Campbell ran for 124 yards on 12 carries, including a 90 yard touchdown carry late in the contest. Jevon Pruitt snatched two of the five interceptions.
Tonight's game was played under the lights at Highland High School in Anderson before a crowd estimated at 2,500.
The offensive output was DePauw's biggest since October 13, 1906, when the Tigers pummeled Franklin College 81-6.
Read summaries in the Anderson Herald Bulletin and Indianapolis Star. For comprehensive coverage of tonight's game, visit the football team online.
Back