"Potential First Lady" Jeri (Kehn) Thompson '88 Profiled in Today's Tennessean
September 9, 2007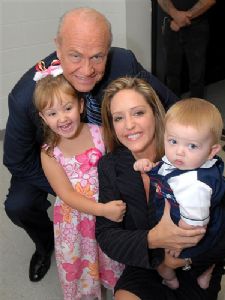 September 9, 2007, Greencastle, Ind. - "I would say, like any other spouse, I am a friend, I am an adviser," Jeri (Kehn) Thompson, wife of presidential candidate Fred Thompson and 1988 graduate of DePauw University, tells the Tennessean. Today's edition of the newspaper carries a lengthy profile, which begins, "If her husband is elected president, Jeri Thompson will be the youngest first lady since Jacqueline Kennedy. But unlike Kennedy, a glittering socialite whose style created an image as strong as her husband's, Thompson is a mystery woman to most Americans." (photo at left shows the Thompsons with their two children in Iowa, September 6)
In the story, Jeri Thompson discusses her childhood and family life, noting that her mother was a librarian, "which is probably why I ended up an English major." Beverly Keel writes, "Unlike many of her DePauw University classmates, she worked part time as a waitress to offset expenses once she got to college.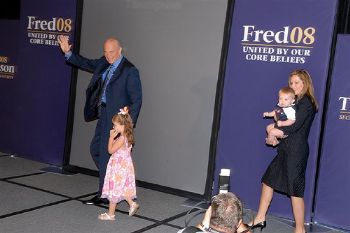 'That wasn't the cool thing, if you know what I am saying,' said Jeri Thompson, who was in the Pi Beta Phi sorority."
The article quotes Caryn (Greer) Riemer '88, a classmate and sorority sister of Thompson's. "In a positive way, she doesn't care what people think who don't matter," Riemer tells the newspaper. "She's confident in a wonderful way. She adds, "I think it's not surprising that she carved out a career in politics, given her intellect, her ability to network and communicate effectively ... but I don't think we ever imagined that she would possibly be first lady."
Fred Thompson -- a former U.S. Senator from Tennessee who is also a well-known actor -- dismisses criticism that his wife has been overly involved in his presidential campaign. "I wanted her to be my eyes and ears and voice in a lot of things, and she did that," he asserts. "She has certainly been involved and will continue to be involved. But in terms of running the campaign or making decisions or anything like that, that isn't true."
The Republican presidential hopeful, who officially launched his campaign last week,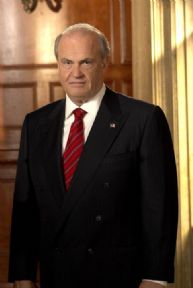 adds, "This is an extremely isolating process. Having someone that you love, having someone that has your back, having someone that knows what you expect and don't expect and so forth, I think is a requirement for this. Otherwise you are alone and isolated. I don't care how many people you hire," adds Sen. Thompson, who also discusses his wife's political "sixth sense" in the article.
Of Jeri Thompson, Keel reports, "three things emerge from speaking with those who know her and from an exclusive interview she gave the Tennessean:
Her husband trusts her political intuition.
She defines herself as a conservative with little tolerance for government's broad reach.
Motherhood is more within her comfort zone than a public campaign presence."
Read the complete story, headlined "Potential first lady speaks out," at the Tennessean's Web site. A sidebar article can be found here.
Back