Mark Your Calendar for DePauw's Old Gold Weekend, October 25 - 28
September 10, 2007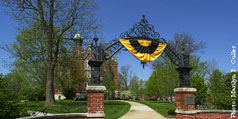 September 10, 2007, Greencastle, Ind. - In 1907, Oklahoma became the 46th state, the first canned tuna was packed in San Pedro, California, and a tradition was born at DePauw University. One hundred years later, you're invited to return to campus to help DePauw celebrate its Old Gold Weekend, October 25-28. Events will include two building dedications, music from a Grammy Award-winning ensemble, awards recognizing alumni achievement, and the traditional Old Gold football game.
The new Judson and Joyce Green Center for the Performing Arts will be dedicated on Thursday, October 25, with a special performance of the Grammy Award-winning Orpheus Chamber Orchestra in the evening.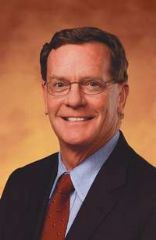 On Friday, the Janet Prindle Institute for Ethics at the DePauw University Nature Park will be dedicated. The ceremony will include remarks by Rev. James A. Forbes Jr., senior minister emeritus at The Riverside Church in New York City.
Also on Friday, the Distinguished Alumni Achievement Awards will be presented at a banquet beginning at 6 p.m. at the Social Center at Walden Inn. Theodore "Tim" M. Solso (pictured at right), CEO of Cummins Inc. and 1969 graduate and Trustee of DePauw, will receive the Old Gold Goblet, the University's highest alumni award honoring "eminence in life's work and service to alma mater."
Other award recipients will include:
Travis S. Nelson '93, Young Alumni Award
Thomas R. Schuck '72, Distinguished Alumni Achievement Award for Citizenship and Voluntary Service
Willis H. "Bing" Davis '59, Distinguished Alumni Achievement Award for Creative and Performing Arts
Angela Hicks Bowman '95, Distinguished Alumni Achievement Award for Management and Entrepreneurship
John Frost Bridge '42 (dec.), Distinguished Alumni Achievement Award for Media
Wallace J. Nichols '89, Distinguished Alumni Achievement Award for Professional Achievement
For more information and a schedule of events, check the Old Gold Weekend Web site or contact the Office of Alumni Relations at (877) 658-2586.
Learn more about the history of Old Gold Weekend in this previous story.
Back