First 'Old Gold Day' is Celebrated at DePauw
November 16, 1907
November 16, 1907, Greencastle, Ind. - DePauw University celebrated its first "Old Gold Day" today. The event was created by DePauw President Edwin Holt Hughes "especially to put a formal stop to scrapping between the freshmen and sophomores in the fall," writes William Warren Sweet in his history of the University. The text continues, "only later did it become primarily a homecoming day."
The first Old Gold Day featured "a morning chapel service, a milder version of the freshman-sophomore confrontation, several interclass athletic contests, and in the afternoon the Earlham-DePauw football game," notes DePauw: A Pictorial History. "The newly organized University band played, a great bonfire was lit after the football victory, and Hughes himself presided over an evening of 'jollification' in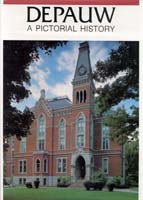 Meharry Hall on this first Old Gold Day. Not long afterwards, the women students, feeling left out of much of the Old Gold Day activities, organized their own May Day festivities, with elaborately costumed dancing around a May pole, the election of a Queen of the May, tennis matches on the East College lawn, and theatrical entertainments in the evening. Both became annual campus events, May Day eventually giving way to Mothers' Day Weekend and Old Gold Day surviving to the present as alumni homecoming."
Read more in the online version of A Pictorial History.
Back