DePauw Theatre to Present Trio of 'Medieval Tales,' Sept. 21-23 & 28-29
September 11, 2007
September 11, 2007, Greencastle, Ind. - DePauw Theatre will kick off its 2007-08 season with "Medieval Tales," a collection of short plays compiled and directed by Andrew Hayes, associate professor of communication and theatre, September 21-23 and 28-29. Performances of the unique and historically relevant production can be enjoyed at 7:30 p.m. on Friday and Saturday evenings and at 2:30 p.m. on Sunday.
To accommodate the final construction and renovation work on the Judson and Joyce Green Center for the Performing Arts, the production will be presented in an alternative performance venue, the sanctuary of Gobin Memorial United Methodist Church. "Medieval Tales" is the first DePauw Theatre production in many years to be performed outside of DePauw's performing arts venue. This production is well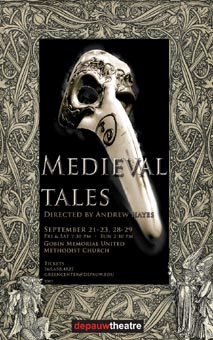 served by the move, however, as the sanctuary?s historic architecture, grandeur, and aesthetic guarantee a conducive atmosphere for the performance of plays from the late medieval/early Renaissance period.
"Medieval Tales" is a compilation of three separate plays with no natural connection other than the time period in which they were written. These short works reflect an historical period when theatre was beginning to reemerge in the Western world. The plays, Everyman, The Nose Dance and Pierre Pathelin vary greatly in narrative content, characterization, and tone, and as far as we know, have never before been performed together. In juxtaposing these works, the production offers an exploration into the medieval worldview on religion and domestic life. "Medieval Tales" captures the humor, daily concerns, and lifetime dreams of a continent and culture on the cusp of a multifaceted explosion.
The late 15th-century, anonymously-written morality play Everyman serves as the centerpiece for "Medieval Tales." An allegorical piece representing mankind?s quest for salvation, Everyman presents Everyman?s journey to final judgment. In Everyman?s goal to secure witnesses, he attempts to gain the support of characters such as Goods, Fellowship, and Kindred. It is not until Everyman discovers the need for Good Deeds that there is an escape from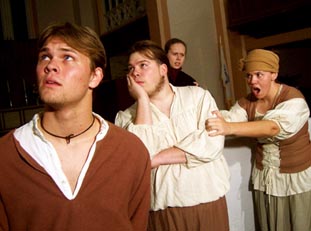 eternal punishment.
In the DePauw Theatre production of Everyman, there are familiar references through both characterization and costuming to emphasize the potential for present-day applicability. Although clearly a Christian morality play, the DePauw production emphasizes the play's structural intent to persuade the audience away from a life focused on worldly success and riches, and toward a life focused on eternal goals. Two lighter farces bookend the morality play to round out the evening. (left image, l-r: Matthew Ballinger, Christopher Burton, Linda Bradford, Christine Dougan)
As "Medieval Tales" promises to be a worthwhile experience for audiences of all
ages, the production is also a unique experience for the cast members. Veteran performers and a significant number of first year students, seventeen to be precise, are participating in this unusual production. DePauw Theatre and all the students involved are grateful to Gobin Memorial United Methodist Church for allowing the use of its spectacular sanctuary.
Tickets for the production are $3 for students and $6 for adults, and available for purchase at the Judson and Joyce Green Center for the Performing Arts Center box office. Reservations and information may be obtained at (765) 658-4827 or greencenter@depauw.edu.
Also available are DePauw Theatre patron passes. Purchasers are entitled to five tickets for the price of four, which may be used in any combination throughout the season. The passes are available for both students and adults. Contact the Green Centers Center Box Office at the contacts listed above.
Back