Undefeated Champions! DePauw Team Returns from CBS' College Bowl
February 26, 1962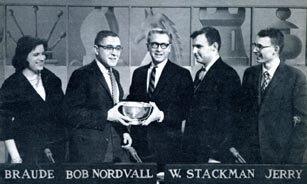 February 26, 1962, Greencastle, Ind. - DePauw University's 125th anniversary celebration is now a bit sweeter, as a team of four students has become champions of television's GE College Bowl. Vanquishing five straight opponents, DePauw "whiz kids" Nan Braude, Jerry Frost, Bill Stackman and Bob Nordvall (the team captain) are only the seventh team in the three-year history of the popular CBS show to retire as undefeated champions. In doing so, the DePauw team earned $9,000 in scholarships for the University, awarded by the General Electric Company, program sponsor. (at left: emcee Allen Ludden presents the championship trophy to the DePauw team)
The Tiger team was greeted by a cheering crowd that waited at the Indianapolis airport (picture at right), and then at 1 a.m. on the DePauw campus, where nearly the entire student body gathered in a cold rain to celebrate the victors' homecoming.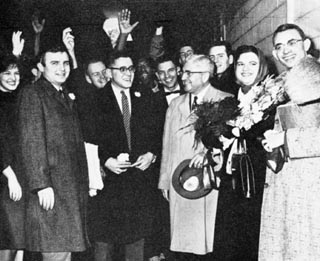 "These four young people and their coach (Professor Robert O. Weiss) have brought more honor to DePauw than anything else that has happened in the 11 years I've been here," President Russell J. Humbert declared at the campus rally (seen in image below left). He announced that DePauw was awarding each of the contestants a $500 scholarship grant.
Hundreds of letters, telegrams and phone calls poured in to Greencastle from jubilant alumni, friends and even strangers. In fact, the communication started after DePauw won its first match with Brigham Young. "Hooray, Rah-rah and Excelsior for DePauw," exclaimed Louis McNutt '40, in a typical letter. He hosted 32 alumni and friends in his home the night of the opening contest.
"Words just can't express the happy spirit of the City of Greencastle in giving thanks for the honor and distinction brought its way," said Mayor Ray Fisher. "It is our sincere wish to let these talented young students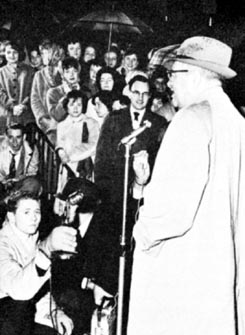 in our community know just how much their success is shared by the entire area."
The first DePauw victory toppled Brigham Young, a four-time winner. The team from Greencastle came from behind in the final eight minutes for a 240-175 victory.
Having disposed of the reigning champs, DePauw took care of Marquette University, 280 to 120. "We're always glad when academic excellence gets public recognition on a par with athletic excellence," noted an Indianapolis News editorial after the second DePauw win. "It shows that our educational institutions ... still are just what they are supposed to be -- seats of learning. The state should be proud."
Following the 305-140 triumph over Willamette University, College Bowl master of ceremonies Allen Ludden commented, "We think they are a brilliant group of young people, very attractive and very nice to work with. They have great spirit and are really gunning for that fifth win."
But first, DePauw needed to knock off a fourth challenger, and the University of Alabama put up a tough fight. Down 100-55, DePauw roared back. Frost made a numerical progression reply and named the Kellogg-Briand pact of 1928. Braude correctly tossed back "Volpone," Stackman called a "Russian addiction in chess," and Nordvall recognized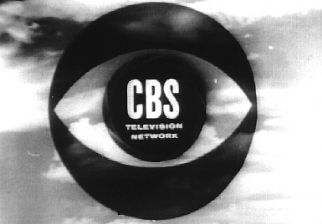 a quote on taxes as belonging to Oliver Wendell Holmes to clinch a 235-180 DePauw win.
A 185-105 victory over Haverford last night in the fifth and final contest put the DePauw team in a class of only seven undefeated teams in the program's history (the others have been: Rutgers, Colgate, Hobart-William Smith, Rensselaer Polytechnic, Pomona and Bates).
"Maybe if we get two of three kids around the country to dig into the books and see the intrinsic joy of learning, the whole show will be worth it," says Jerry Frost. "In some small way, we have given academics prestige, which I think is needed in our culture."
(original story by Merilyn Smythe Knights '46)
Back