Walker Gilmer is KTK-Panhel Professor of the Year
March 12, 1977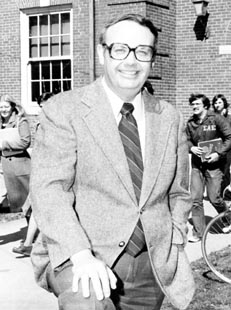 March 12, 1977, Greencastle, Ind. - F. Walker Gilmer, a professor of English at DePauw University since 1963, is the recipient of the 1976-77 KTK-Panhel Professor of the Year Award. A graduate of the University of Virginia and Northwestern, Gilmer teaches literature and composition at DePauw.
However, the professor didn't always plan to teach. Gilmer's path initially had him following in the footsteps of his parents -- who are both lawyers -- and attending Harvard Law School. By Christmas of the first year, however, his heart still belonged to Hemingway and Faulkner, so he packed up his books and enrolled in graduate school in English. He has been reading and teaching ever since.
Dr. Gilmer feels that the classroom is a place for interchange of ideas and never a forum for his own opinions on politics, religion or morals. The professor says today's students show remarkable interest in literature, especially modern American literature, which he particularly enjoys teaching. He says that he appreciates the fact that, at DePauw, he has the opportunity to see and talk with students in class and on campus, an opportunity he would never have in a larger and more impersonal school.
Back