Bell is Ringing in Crawfordsville After 27-19 Wabash Win
November 15, 1941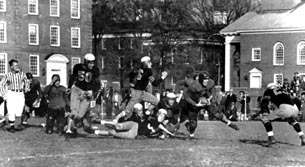 November 15, 1941, Crawfordsville, Ind. - DePauw quarterback Art Lavidge never quite recovered from an early hard hit, and Wabash's Earl Dowd was a force to be reckoned with despite getting roughed up himself. Dowd and the Little Giants kept their grip on the Monon Bell this afternoon, 27-19, in a game described as "thrilling and bitterly fought."
The loss ends the Tigers season at 6-2; Wabash improves to 5-3-1. It marked the tenth battle for the railroad bell since the prize was introduced in 1932. The series between the two schools began in 1890.
The game comes six weeks after the dedication of DePauw's new Blackstock Stadium.
View a "Monon Memory" of the game here:

[Download Video: "1941 Monon Memory" - 4234kb]. A complete roster of the video clips -- written, produced and narrated by Ken Owen '82 -- can be accessed by clicking here.
For comprehensive information on one of college football's greatest rivalries, visit the Monon Bell Web page.
<
Back